Our Amazing first year @ Le Pelot
We've had the remarkable opportunity to bring the heart and spirit back into this beautiful farmhouse and vineyards, settle into the local community, begin developing a range of different programmes, and experiences for our visitors and encourage our wonderful friends from around the world, to enjoy a little piece of South West France - the Tuscany of the Midi Pyrenees.
Good food, great wine, and the occasional amazing loaf or cake have been an important theme for our first year in France.  We've loved the seasonality of the markets in the Gers, encouraging our focus towards 'in season' food, reducing considerably our food miles and improving the quality of all that we eat and serve.  While the Gers is renowned for the quality of its food - particularly for duck, foie gras and Armagnac - we have found it possible to create healthy, lower fat dishes which are good for the heart and makes your soul sing!
And whilst food has been an important theme for us - the real health benefits from making great connections, talking, laughing and sharing, have been significant and evident.
Regardless of whether we're welcoming individuals, partners, friends, or family - we've noticed that our environment and the sunshine (combined with a few carefully chosen Spaniels and Cats) create a safe and warm space for people to relax.
We've been totally blown away by the comments people have shared about the impact Le Pelot has had for our visitors.  Great to know we have the magic formula right...
If you want to know more about why we do what we do take a look at our Living in France article - we think it captured the spirit of our business and aspirations, to a tee.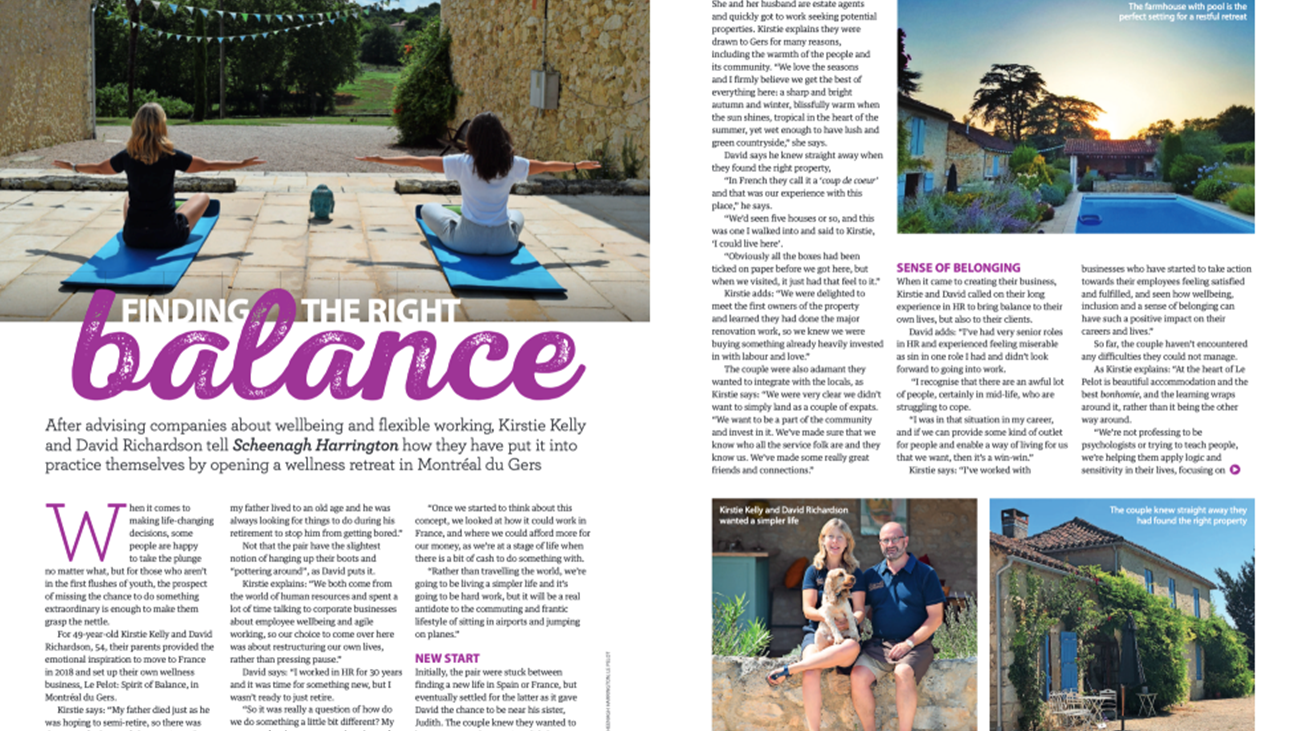 And of course, I'd be remiss not to finish our Year #1 look back, with a big thank you to the Co-Founder who saw the light, and decided to propose - on my birthday and then join me for two amazing celebrations in both France and the UK before whisking me off to Patagonia to ride with the gauchos (a lifelong dream).  What a way to finish a year.  And that's just the first!
Watch out for our 2020 programme and our exciting plans for Le Pelot.... and the Spirit of Balance or as we should say L'Esprit D'Equilibre!